Build Box (30 Day)

The Build Box is a personalized combination of products designed to support your fitness journey for 30 days!

The Build Box combines PreWorkout, PostWorkout, Collagen+, and Shake for the ultimate lean muscle building system.

Vanilla & Chocolate Shake on back order.

What's Inside:
1 – PreWorkout Scoop Jar
1 – PostWorkout Scoop Jar
1 – Collagen+ Jar
2 – Options (mix and match Vegan or Collagen+)


Read More

Read Less

View Details

Hide Details
Free Shipping
on orders over $150.
30-day Money Back Guarantee
How to take The Build Box
Before Exercise: Mix up & drink your IDLife PreWorkout
After Exercise: Mix up & drink your IDLife PostWorkout
All Day: Incorporate Collagen+ to your day to optimize recovery. Add one scoop of IDLife Shake to 12-14 ounces of cold water, milk or recipe of your choice; shake or blend and enjoy!
Benefits
Non GMO
Gluten Free
Soy Free
Vegan and Vegetarian Friendly
No Artificial Flavors or Sweeteners
View Supplement Facts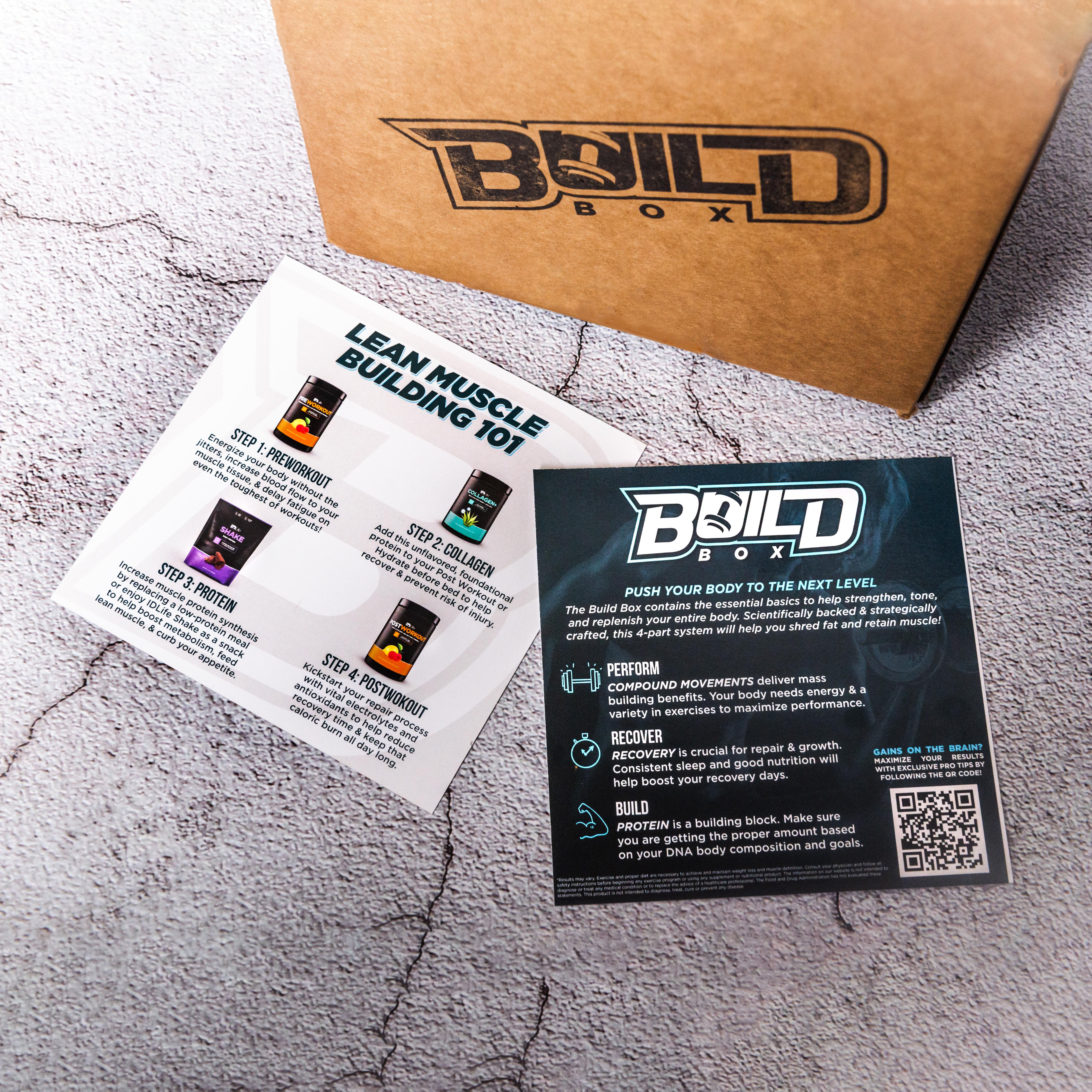 Frequently Asked Questions
How does the build box work?
The Build Box combines PreWorkout, PostWorkout, Collagen+, and Shake for the ultimate lean muscle building system. This bundle of products helps provide the building blocks your body needs to perform, build lean muscle, and recover from exercise and physical activity.
How do the dynamic slots work?
You have the option to customize your Build Box! In the Large Build Box there are 2 dynamic slots for you to choose between Vegan, Chocolate, or Vanilla Shake OR additional Jars of Collagen+. In the Small Build Box you get 1 dynamic slot to choose your product. This option allows you to create the program that works for you!
Can I combine any of the products
For best results IDLife recommends consuming PreWorkout 30 minutes before you exercise, and PostWorkout 45 minutes after you complete your workout. Shakes can be consumed as a meal replacement throughout your day, and Collagen+ can be consumed one or more times per day. Collagen+ can be mixed with Shakes or PostWorkout to optimize your muscle recovery.*
Is the Build Box Informed Choice & Informed Choice Sport certified?
Collagen+, PreWorkout & PostWorkout, and Chocolate & Vanilla Shake are all Informed Choice & Informed Choice Sport Certified. IDLife takes pride in the fact that every batch is pre-market tested & free of sports prohibited substances providing a safe product and peace of mind to athletes.
When should I take Pre & PostWorkout?
For best results IDLife recommends consuming PreWorkout 30 minutes before you exercise, and PostWorkout 45 minutes after you complete your workout.
Why isn't there protein in PostWorkout?
IDLife has already developed an extremely high quality protein shake. We designed a PostWorkout product that replenishes essential electrolytes and nutrients so the body can recover and repair itself. This allows people to choose their protein source after completing their workout.
Why do we use creatine in PostWorkout?
It is one of the most researched supplements available and has been scientifically proven to build muscle.*
What are the benefits of Collagen+?
Both men and women can experience the benefits of Collagen+ when incorporated into their daily health regimen as their best anti-aging strategy. While Collagen+ does provide 9 grams of protein per serving, the combination of ACTIValoe®️ and Fulvic Acid helps maximize its absorption.
What kind of protein is used in the Shakes?
In the Vanilla and Chocolate Shakes we use a proprietary blend of whey isolate, whey concentrate and whey peptides. This gives our Shake a "cleaner" taste and reduces digestion issues such as water retention, stomach cramping, lethargy and a host of other discontenting conditions associated with cheaper protein brands. In our Vegan shake we use peas, brown rice, and hemp as sources of protein.
Will these products make me feel jittery?
When taken in the right doses they should not make you feel jittery.
I have heart problems. Can I take the Build Box?
Consumers with heart conditions are recommended to avoid all energy products, not just those manufactured at IDLife. Please consult your physician.